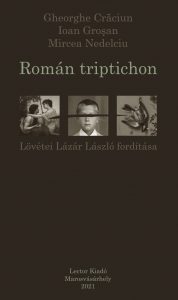 Gheorghe Crăciun – Ioan Groșan – Mircea Nedelciu: Román triptichon [Romanian Triptych]. Translated by László Lövétei Lázár. Targu Mures, Lector, 2021.
Category: fiction
Pages: 176
Cover: paperback
ISBN 978-606-8957-32-6
Gheorghe Crăciun, Ioan Groșan and Mircea Nedelciu are members of the iconic Generation of the Eighties in the Romanian literature. Translator and poet László Lövétei Lázár has chosen three texts about love, childhood, and poetry to build a triptych in text.